About Us
Welcome to Ratcliffe Cleaning Services, your trusted partner for comprehensive exterior cleaning in Greater Manchester and Lancashire. Let's transform your property together with our exceptional services.
01942 558705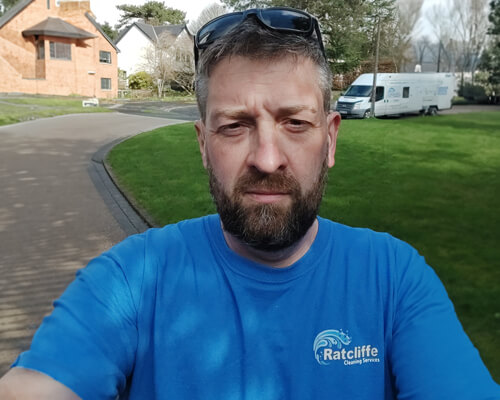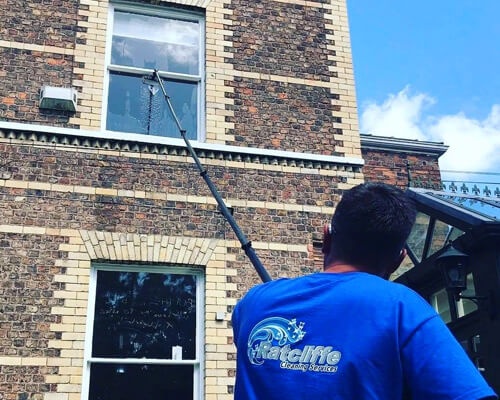 Exterior Cleaning Company Greater Manchester
Welcome to Ratcliffe Cleaning Services, a leading provider of comprehensive exterior cleaning solutions in Greater Manchester and Lancashire. The company was established by Wayne Ratcliffe, an experienced professional with a passion for delivering exceptional cleaning services. Wayne's commitment to quality, detail, and customer satisfaction forms the backbone of our company ethos.
Located in Atherton, we pride ourselves on our range of tailored services, including driveway, patio, and decking cleaning, block paving, stone cleaning, render cleaning, graffiti and chewing gum removal, as well as specialised uPVC cleaning. We have the skills, equipment, and dedication to tackle any cleaning challenge, regardless of its size or complexity.
Under Wayne's leadership, our team of trained professionals employs advanced pressure washing techniques, combined with eco-friendly cleaning products. We not only ensure a thorough clean but also safeguard the health of your family, pets, and the surrounding environment. We're renowned for our ability to restore the original beauty of various exterior surfaces, enhancing the overall aesthetic and value of your property.
At Ratcliffe Cleaning Services, we believe in establishing long-term relationships with our clients. To us, every job is a commitment to provide the highest level of service, whether it's a small residential task or a large commercial project. We offer free quotes and transparent pricing, reflecting our commitment to integrity and customer satisfaction. Trust in Ratcliffe Cleaning Services for all your exterior cleaning needs and experience the difference that our passion for cleanliness can make to your property.
Need a Domestic or Commercial exterior cleaning quote?
Areas We Cover
Ratcliffe Cleaning Services specialise in all types of exterior cleaning for homes and businesses within a 25 mile radius of Atherton, Greater Manchester. We have completed over 2000 exterior cleaning jobs over the years to the highest standard.
The most popular areas that we visit are:
At Ratcliffe Cleaning Services, we understand that your time is important to you. That's why we offer exterior cleaning services including power washing and gutter cleaning so you can have more time to enjoy the things you love. We are proud to serve the Greater Manchester and Lancashire areas and our team of experienced professionals are ready to help you with all of your exterior cleaning needs. Contact us today for a free quote. We look forward to hearing from you soon!
Contact Us Today for Our Pressure Cleaning Services
Lorraine Rickard
16. March, 2023.
Wayne is knowledgeable & the service level was excellent.
Heather Howsley
16. March, 2023.
Ratcliffe Cleaning Services were brilliant. Very professional, reliable, trustworthy and their work was to a high standard. All work was monitored so that timescales were achieved and most days they exceeded our expectations. Our roof has been transformed from a tired, mossy, dirty area into a fresh revived looking house. I would not hesitate to recommend their services anybody.
Danielle Ayre
1. December, 2022.
Very happy with the work carried out by Wayne for us. Professional and friendly from start to finish. Our porcelain tiles are like brand new again. Wouldn't hesitate to recommend Ratcliffe Cleaning Services, and will definitely have Wayne back in the future.
Enid Raynor
4. October, 2022.
Wayne cleaned our drive and garden patio to a much higher standard than we've had done before. Looking like new. A very professional job.
Peter Wilcock
3. October, 2022.
Wayne and his team have done a brilliant job transforming a very dirty roof to a nearly new looking roof, I've added a couple of pictures half way through my job . Thanks for the great work
Jonathan Mather
29. September, 2022.
I would not hesitate to recommend Ratcliffe Cleaning Services. From quotation to finished job they were professional and on time. They did the work in good time and left everything tidy and as they found it. Good job, well done.
Alex Burgess
18. August, 2022.
Excellent service. Would recommend.
Phil Jepson
7. July, 2022.
Wayne and the team were fantastic. We needed acrylic render cleaning off our block paving, our driveway cleaned and our Indian stone cleaned in the garden. Wayne quoted a fair price and was very knowledgeable with the work we required. Will use again and have already recommended to friends and family.
Sydney Berger
30. April, 2022.
After having had several quotes and been messed about by various firms I was lucky to find Ratcliffe Cleaning Services. Wayne assessed the job, gave me a detailed quotation which I accepted. Wayne and his assistant were punctual, worked solidly for two days and did a superb job on my roof and paths. I found them professional and friendly. I have no hesitation whatsoever in recommending them.
laith hamdani
12. November, 2021.
Excellent service , professional, prompt and detailed . Excellent set of people to work with . Would recommend them any time . Used them several times and have never let me down
Speak to Ratcliffe Cleaning Services
Get in touch through the form below and we will get back to you as soon as possible.
If you need immediate contact then give us a Call and speak to one of our experts